Model history
The Alfa Romeo 1900 was an important development for Alfa Romeo as the marque's first car built entirely on a production line and first production car without a separate chassis. It was also the first Alfa Romeo offered with left-hand drive. The car was designed by Orazio Satta and first introduced at the 1950 Paris Motor Show.
The 1900 was offered with a new 1,884 cc, 90 bhp, 4-cylinder twin cam engine. It was spacious and simple, yet quick and sporty. The slogan Alfa used when selling it was 'The family car that wins races', not-so-subtly alluding to the car's success in the Targa Florio, Stella Alpina, and other competitions. In 1951 the short wheelbase 1900 C (C for corto) version was introduced. It had a wheelbase of 2,500 mm and was equipped with a more powerful 100 bhp engine, it had bigger valves, a higher compression ratio and it had a double carburettor. Two years later the 1900 Super and 1900 TI Super (also 1900 Super Sprint) with 1975 cc engine were introduced and 115 bhp and the first 5-speed gearbox, enabling 190 km/h.
The chassis was designed specifically to allow coachbuilders to rebody it. Iginio Alessio, then general manager of Alfa Romeo, was concerned for the viability of the independent Italian Coachbuilding industry – the advent of the unibody chassis design was threatening to put the carrozzerie out of business. Alessio was also a personal friend of Gaetano Ponzoni co-owner of Carrozzeria Touring Superleggera, thus from 1951-1958 Alfa Romeo built five different variations of the 1900 unibody chassis specifically for independent coachbuilders. Alfa Romeo gave official contracts to Touring to build the sporty 1900 Sprint coupé and to Pinin Farina to build an elegant four seat Cabriolet and Coupé.
This example
Just finished from a lovely restoration
Matching number engine
Comes with important history file and lots of documentation with invoices
Original Mille Miglia participant in 1956
This specific Alfa Romeo 1900 CSS Touring was delivered new on the 10th of December in 1955 in Parma to Mrs. Anna Coconcelli. In march 1956 the car was entered by Signor Ettore Morelli for the XXIII 1956 Mille Miglia. He wanted to drive the race with his daughter Argentina. Unfortunately the beautiful Argentina had no driving license and so she was not allowed to participate. A nice set of letters back and forth with the Automobile Club Brescia is on file. Ettore then decided to drive alone. This was allowed by the Mille Miglia and this heroic racing driver then drove for more than 17 hours, alone, to finish 16th in class. Imagine that!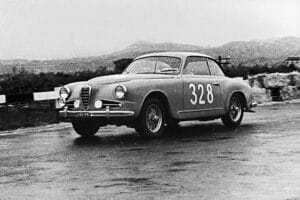 Picture: 29 April 1956, Italy. Mr. Morelli braving the heavy rain in his #328 Alfa Romeo 1900 C/SS during the XXIII Mille Miglia. Mr. Morelli finished in 17h26m16s, resulting in a 160th place overall and 16th in the 2-litre GT class.
After the Mille Miglia the car was sold in 1959 to Ernesto Leon, originating from La Paz Bolivia, but also having a residence in Pisa. He would keep the car until 1989 when the car was sold to Gerald Lettieri, Connecticut USA. In 1992 he sold the car to Antonio Sabato of Toronto Canada.
He started work on the car until in 2017 the car was sold to an American collector. He finished the restoration in 2023 at a famous restoration facility in Italy known for their award winning restorations. It is a lovely car. The car still needs running in and we are tweaking the car a little more.
Price please ask
This unique Alfa Romeo comes with its important history file, including the Mille Miglia entry papers, some 250 pictures of restoration work and many invoices. Please ask for information or more pictures as required. The numberplate on these pictures are for photographic purposes only and are not from this car.